TWO TOOLS

.
ONE SIMPLE
SOLUTION.
Actionable insights plus personalized nutrition.
The world's most advanced wellness system.
Built just for you.
DNA insights unlock the code to your nutritional needs.
TOOL #1
Information that's actionable.
Get 11 DNA reports containing more than insights.
At SNiP, we go further than facts. Your reports contain actionable information that's personalized just for you.
Learn how your genes influence your mind and body, and discover what you can do to offset your genetic vulnerabilities.
Containing clear, easy-to-follow recommendations so you can take action now.
INCLUDES:
DNA test, lab fee, return shipping to lab and digital delivery of reports
Easy-to-understand results, epigenetic lifestyle tips and suggested labs for health tracking, plus peer-reviewed science and live links to additional resources.
Premium CODE Complex Report unlocks your supplement's unique formulation, based on your DNA.
Premium CODE Complex Report
+ 10 Key Health Reports:
Premium CODE Complex Report
Healthy Body Mass Index (BMI) Report
Heart Health Report
Cognitive and Brain Function Report
Detoxification Report
Energy Report
Gut/Microbiome Report
Healthy Immune Response Report
Healthy Inflammatory Response Report
Methylation Report
Mood Report
Clinically substantiated, DNA-based precision nutrition for under $5 per day*
Made to order based on your genetics
Prebiotics + digestive enzymes
High-potency, bioactive ingredients
Non-GMO, gluten free
3rd party tested
Compounded in the USA
*On subscription
TOOL #2
Personalized
Nutrition
Requires one-time purchase of DNA test kit and reports.

Non GMO

Dairy Free

Soy Free

Gluten Free

Nut Free
Based on your personal nutritional needs, as evidenced by the genetic analysis of your cheek swab, CODE Complex contains the vitamins, minerals, and micronutrients your body requires for optimal functioning.
Subscribe today to unlock

$20 per month




plus




*Free shipping to the U.S. only.
Your custom formula can be generated
once your DNA reports are ready.
Order your DNA test and reports
now

to begin.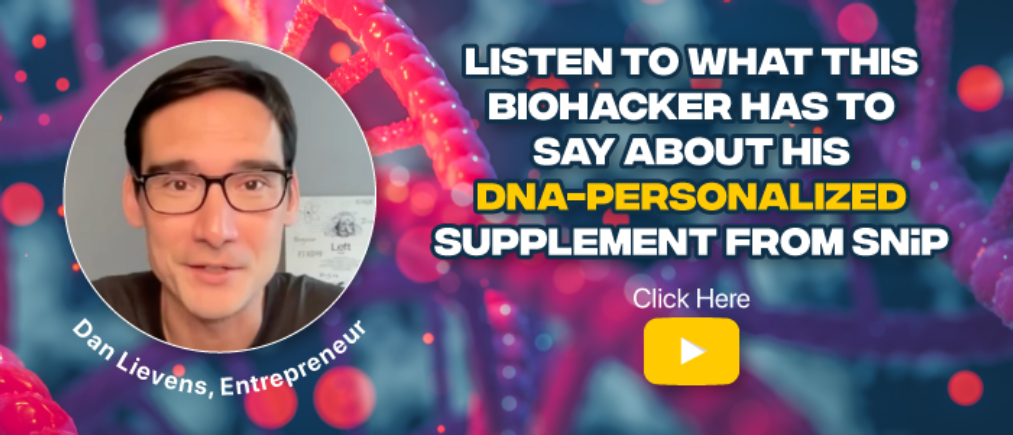 SNiP Nutrigenomics is committed to your privacy protection.
We do not store or sell your DNA data to third parties, including employers, health insurance companies, or other entities.
Advanced Privacy Protection
Your DNA is collected solely for the purposes of generating your DNA report(s) and for the DNA-informed customization of your personalized nutritional supplement.